This year marks 30 years since the U.S. Mint first started producing Gold and Silver Eagle coins. In that span of time, the popular coins have made it through 3 recessions, a couple stock market crashes, and several bull markets.
In honor of the anniversary of these popular coins, SilverSeek recently published two charts that every precious metal investor will want to see. The first chart (see below) compares Gold Eagle sales from 1986-2007 (before the collapse of the U.S. Investment Banking and Housing Industry) and after from 2008-2014.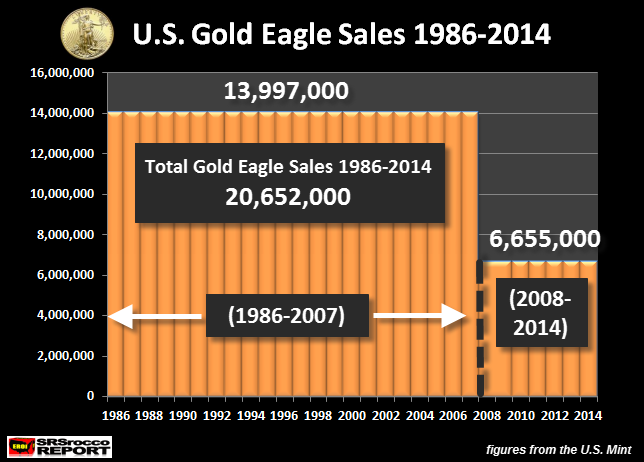 This chart is a little deceiving – making it seem like coin sales have dropped. However, after you take into account the range differential (comparing 21 years to 7), the data actually shows that annual sales of American Gold Eagle coin sales grew by 50% from 2008-2014 compared to the previous two decades.
That's impressive, sure. But it's nothing compared to American Eagle silver coins during the same time period. Take a gander at the chart: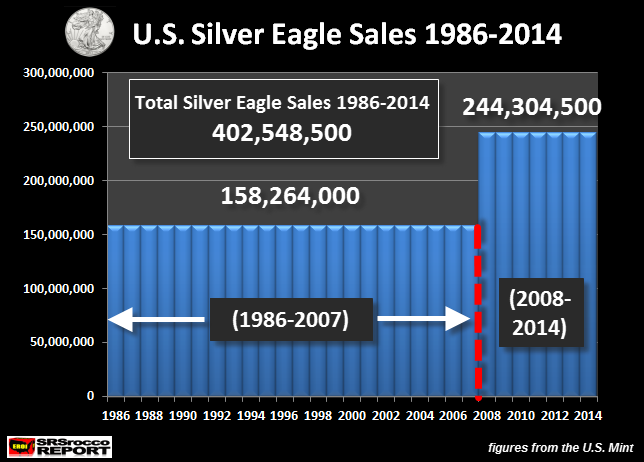 "Investors purchased nearly 5 times more Silver Eagles a year after the Great U.S. Economic Collapse in 2008, than they did from 1986-2007," according to SilverSeek. "Basically, Silver Eagles outperformed Gold Eagle sales by 10 to 1 since 2008."
What does this mean for the future? Will the trends continue? What should you do about it? Get answers to these questions and more by reading the full article here.
Charts courtesy of SilverSeek.com